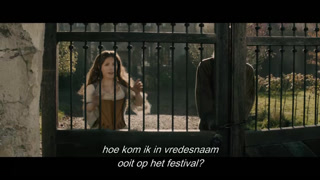 Into the Woods

Drama
Komedie
Musical
Taal:
Engels
Jaar:
2014
Duur:
2 u
Into the Woods is een combinatie van de bekende sprookjes van Assepoester, Rapunzel, Sjaak en de Bonenstaak en het verhaal van de Bakker en zijn vrouw die wanhopig naar een kind verlangen. Helaas zijn de Bakker en zijn vrouw door een heks vervloekt zodat ze geen kinderen kunnen krijgen. Ze moeten verschillende proeven doorstaan om de vloek op te heffen. Zo moeten ze de heks een koe bezorgen die zo wit als melk is, een kap die zo rood als bloed is, haar dat zo geel als maïs is en een muiltje dat zo zuiver als goud is.
Huurprijs: €2,99 of 6 Moviepoints Huurperiode: 2 dagen
Deze film komt ook voor in
Reviews (0)
Er zijn bij deze film nog geen reviews geschreven.