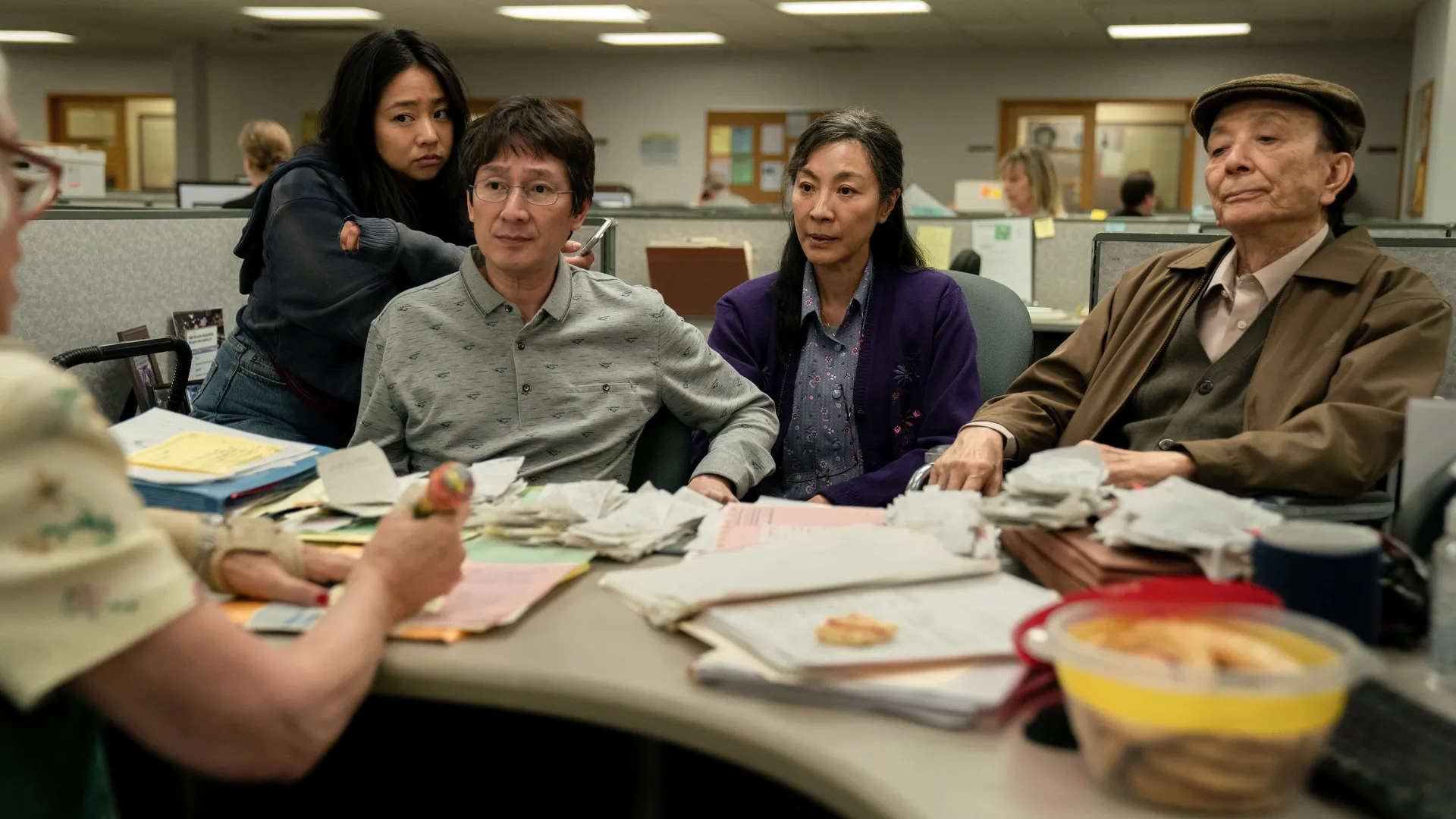 Everything Everywhere All At Once
Sciencefiction
Komedie
Taal:
Engels
Jaar:
2022
Duur:
2 u 14 min
De Chinese immigrante Evelyn poogt haar belastingen in orde te brengen wanneer ze een gek avontuur beleeft. De wereld blijkt in gevaar en enkel zij kan de planeet redden. Ze verkent het universum en ontdekt hierdoor de andere levens die ze had kunnen leiden. Het is maar de vraag of ze in haar missie slaagt wanneer ze het spoor bijster wordt in het eindeloze multiversum. Lees meer
Huurprijs:
€4,99 of 10 Moviepoints
Huurperiode:

2 dagen
Geef cadeau
Het is helaas niet mogelijk om deze film te kijken omdat je je buiten de regio bevindt waar wij deze film mogen aanbieden.
Ben je woonachtig in Nederland of Belgie? Neem dan contact met ons op via het contactformulier zodat we je verder kunnen helpen.
Regieduo de Daniels maakten EEAAO, een razendsnelle, epische, multiversal sci-fi actiemovie! Een van de beste duizelingwekkende films van 2022.

Het leven is zwaar, belastingen; een crime voor middle-aged moeder, echtgenote en winkeleigenaar Evelyn Wang (Michelle Yeoh, Crouching Tiger, Hidden Dragon, Crazy Rich Asians)) en haar slechtlopende laundromat. Bad-ass taxagent Deirdre Beauberidra (Jaime Lee Curtis) legt haar het vuur aan de schenen net voor haar Chinese New Year Party. En dan... het universum breekt open in een gigantische multiverse waar Evelyn niet alleen laundromatter is maar ook kungfu master, celeb filmster en top chefkok... Belastingen zijn de minste van je zorgen want de wereld gaat eraan en alleen Evelyn kan de multiverse redden van de ondergang. Springend van universe naar universe in de levens die ze had geleefd als ze andere keuzes had gemaakt. Ook Waymond Wang (Huy Quan) transformeert van sullige echtgenoot die wil scheiden tot Alpha, haar gids in the multiverse bewapend met een fanny pack.

De film was geschreven voor Jackie Chan maar later herschreven en aangeboden aan Michelle Yeoh. Een knappe soundtrack met composities van Son Lux en je hoort onder meer Randy Newman, André 3000, Mitski, David Byrne. Grandioos acteerwerk, gekke humor, de mooiste creative visuals en vooral ook veel aaahs en ooohs...
Deze film komt ook voor in