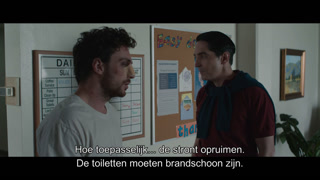 A Million Little Pieces
Drama
Taal:
Engels
Jaar:
2018
Duur:
1 u 48 min
A Million Little Pieces is het verhaal over James, een drugsverslaafde die continu high door het leven gaat. Hij leeft op het randje van de dood en wordt gedwongen opgenomen in een afkickkliniek. Hij moet eerst het feit erkennen dat hij verslaafd is en zijn demonen onder ogen komen in de constante keuze tussen leven of dood. Met de hulp van andere (ex)verslaafden, waaronder Leonard, vindt hij langzamerhand de weg terug naar zijn ware zelf. Lees meer
Huurprijs:
€2,99 of 6 Moviepoints
Huurperiode:

2 dagen
Geef cadeau
Het is helaas niet mogelijk om deze film te kijken omdat je je buiten de regio bevindt waar wij deze film mogen aanbieden.
Ben je woonachtig in Nederland of Belgie? Neem dan contact met ons op via het contactformulier zodat we je verder kunnen helpen.
Deze film komt ook voor in
Reviews
Er zijn bij deze film nog geen reviews geschreven.