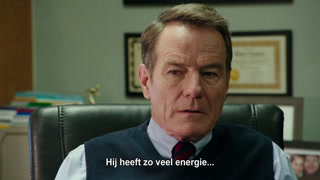 Why Him?

Komedie
Taal:
Engels
Jaar:
2016
Duur:
1 u 47 min
Tijdens de vakantie bezoekt Ned, een overbezorgde, maar liefhebbende vader, zijn dochter in Stanford. Daar ontmoet hij zijn grootste nachtmerrie, namelijk de lompe, maar goedhartige miljardair Laird. Ned is ervan overtuigd dat de grofgebekte Laird absoluut geen match is voor zijn dochter. De eenzijdige rivaliteit en stress neemt toe wanneer Ned erachter komt dat Laird haar ten huwelijk wil vragen. Lees meer
Huurprijs:
€2,99 of 6 Moviepoints
Huurperiode:

2 dagen
Geef cadeau
Het is helaas niet mogelijk om deze film te kijken omdat je je buiten de regio bevindt waar wij deze film mogen aanbieden.
Ben je woonachtig in Nederland of Belgie? Neem dan contact met ons op via het contactformulier zodat we je verder kunnen helpen.
Ned zit in de printing business waar de klappen vallen door de digitalisering. Zijn dochter studeert in Michigan en nodigt hen uit voor een bezoek. Daar krijgen ze te horen dat ze samen is met Laird, een self made miljonair in de gaming buisness. Laird is exentriek en Ned is geen fan. Confrontaties all over. Echt grappige film met veel bekende cameo's. Goede cast en leuk verhaal. De nieuwe belevingen zorgen voor grappige en verwarrende situaties. Geen moraliserende lessen gewoon grote fun en de fight tussen vader en schoonzoon met de girl als prijs....
Deze film komt ook voor in