Barely Legal #13
Clive McLean, the mind behind the wildly successful BARELY LEGAL videos, brings you BARELY LEGAL #13, the luckiest number yet in the hottest-selling smut series in America. Watch daddy's girls transform into brazen sluts, their angel faces and snug cunts cream-stuffed. A girl will forever cherish the memory of her first anal. Share the wonder as a young doll's butt is busted. See why people need people when one lost teen wandering the mean streets accepts the helpful cock of a kind stranger. A saucy ex-juvenile offender forces her tender femme plaything to come so hard, it's criminal. Real life 18-year-old darlings go ultra hardcore in BARELY LEGAL #13.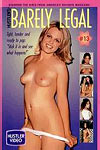 Bewaren:
Delen:

Tip iemand over deze film!
Neem een filmpakket! Dit is een stuk voordeliger dan losse films. Klik op de knop voor meer informatie.
Neem een filmpakket